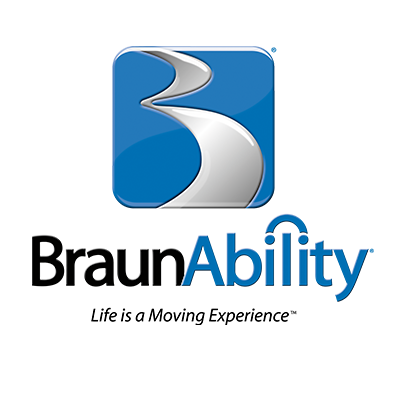 BraunAbility® Side-Entry Wheelchair Van Featuring the Infloor Ramp
The BraunAbility® Chrysler Entervan Xi infloor wheelchair van is a very thought out wheelchair conversion. Not only will it accommodate a wheelchair user up to 55.5" tall, but it can also allow friends and family access to third row seating without deploying the ramp. However, once the in-floor ramp is deployed, the conversion features an LED light bar lighting up the pathway for the ramp. The one touch power entry and exit system includes a power sliding side door, a power in-floor ramp, and a power auto-kneel system to reduce ramp angle and make the van easier to enter and exit. The BraunAbility® Entervan Xi infloor also features easily removable front seats to allow a wheelchair user to drive the vehicle (when properly equipped with hand controls) or to ride in the front passenger position. Have a friend who wants to come along who is also in a mobility device? No problem—the Entervan Xi infloor can comfortably fit two wheelchairs.
BraunAbility® Auto Door
The BraunAbility® Entervan Xi infloor wheelchair van's sliding door opens reliably at the touch of a button. This feature can be activated with the standard keychain remote, or with one of the interior control switches in the Entervan Xi infloor.
BraunAbility® In-Floor Ramp
The lightweight aluminum ramp extends to allow easy access to the interior for wheelchairs and scooters. A durable, non-skid, powder-coated finish ensures superior traction, and the slotted surface helps to prevent your chair from tracking debris into your Entervan. In the event of failure, the ramp can be operated manually via a secondary power back-up.
Quiet Drive® On the BraunAbility® Entervan Xi Infloor
Quiet Drive® is a groundbreaking noise reduction technology offered exclusively in all BraunAbility® Entervan Xi infloor wheelchair vans. Quiet Drive® reduces noise, creating a more enjoyable driving experience by using advanced acoustic techniques to identify and then block noise from entering the vehicle cabin.
BraunAbility® Auto Kneel
To make boarding even easier, the Entervan Xi infloor by BraunAbility® features an integrated kneeling system. An actuator lowers the rear suspension while the door opens, which reduces the slope of the auto ramp.
Removable Seating
For those who wish to ride up front or even drive from a wheelchair, BraunAbility® makes it easy: simply unlock the seat base and roll the entire seat out of the handicap van. The seats can be reinstalled into the Entervan Xi infloor just as easily when needed.
Foot Rest
A convenient fold-down footrest allows passengers seated on the rear bench seat to travel in comfort, not just in the BraunAbility® Entervan Xi, but in all power wheelchair van conversions built by BraunAbility®.
Wheelchair Tie Downs
Each wheelchair van includes a standard floor-track and belt system that secures the wheelchair for transit. An optional retractable belt system, pictured at left, is a versatile and convenient option. Independent users can even elect to have an automatic tie-down installed. Due to the wide variety of wheelchairs and tie-down systems available, we recommend that you check with your local dealer to determine which system will work best for you and your handicapped van.